Tournament COVID Guidelines:
We ask that all tournament directors, coaches, players and spectators help us implement these new guidelines until further noticed.
While in The Gym:
Please practice social distancing.
Everyone entering the building must be wear a mask, including coaches and athletes.  Athletes may take off their mask once they begin warming up for their games.
New hand sanitizer dispensers have been added around the facility. Please use them upon entering The Gym.
Sanitizer will be on each score table; players please use during practices and games.
Please use sanitizer wipes on basketballs/volleyballs periodically during play.
Please enter in the main entrance of the building with mask and exit through side doors of the court you are participating on.
Everyone entering the building will have their temperature checked, including athletes and coaches. 
Bleachers will be available for tournaments.  Spectators will need to rent a floor seat or use the upstairs standing room area.  $2 for a floor seat wristband.  This is to ensure that there are limited number of spectators per court. 
For tournaments, teams will be asked to wait until 10 mins prior to your game time, to give time for other teams to exit and for staff to sanitize the area.
Teams are expected to leave courts directly after games through the side exits of all courts. 
For Tournaments each team will be allowed 12 spectators per team, per game.
Participants will need to either bring their own water bottle or purchase one from The Gym concessions stand. All public water fountains and coolers will the unavailable.
 We are working very hard to keep The Gym sanitized and safe.  Benches, score tables and chairs will be wiped down between games.  Our restrooms will be cleaned regularly.  Please help us by washing your hands thoroughly often and staying at home if you show symptoms.   
Tournament schedules and information will be posted on the tournament providers websites.  Those links are posted on the Events schedule page Here
Where To Stay
Hampton Inn & Suites Houston/Atascocita
19108 Moon Trail Dr
Humble, Texas, 77346
Hotel :  832.995.5125
Click here to book:


"The Gym" rate: $84 per night for double queen or King
Hotel offers free hot breakfast, free WIFI and pool among other amenities
Country Inn & Suites
20611 Hwy 59 North
Humble, TX 77338
Hotel : 281.446.4977
Website: www.countryinns.com/thegym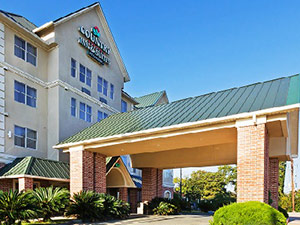 Ask for "The Gym rate"
($80 – single king OR double queen rooms)
plus applicable taxes